Posts Tagged 'Michael Bloomberg'
http://mybrownbaby.com/2012/10/good-week-for-black-boys-thanks-to-work-of-shawn-dove-and-a-white-billionaire/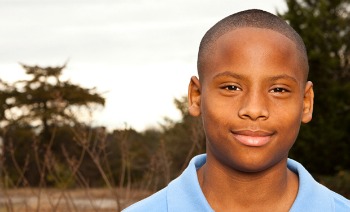 BY NICK CHILES
The plight of young black boys has always been of special interest to me. Having raised one black boy into manhood and written numerous articles about the topic over the years, not to mention several books that spend substantial time delving into the issues that affect young boys—such as "Fatherhood: Rising to the Ultimate Challenge," which I wrote with NBA veteran Etan Thomas and which came out this past June—I have been paying close attention to any efforts to study black boys and also to direct resources at their problems.
That's why I'm so giddy about the work my good friend Shawn Dove has been doing at the Campaign for Black Male Achievement, an initiative started in 2008 by billionaire George Soros and the Open Society Institute to funnel crucial resources to programs around the country that are toiling on behalf of black boys. This is a huge week for Shawn and the Campaign for Black Male Achievement because they are intimately involved with two vital—and hopeful!—reports on black boys that have just been released. Read more…
Entertainers 4 Education Alliance unveiled the I WILL GRADUATE 'Overcoming is Winning' poster featuring three-time Grammy Award winning duo and stars of the self-named WE TV series, MARY MARY. The ceremony was held on, May 8th 2012 on the steps of New York's City Hall.
New York City Mayor Michael Bloomberg said, "We launched the Interagency Task Force on Truancy, Chronic Absenteeism and School Engagement to make sure our children attend and ultimately graduate from school. The supportive message of the Entertainers for Education Alliance poster campaign "Overcoming is Winning" reinforces this lesson and will help encourage our students to pursue the education they need."
Read more…

Once again, corruption in the ranks of the New York Police Department and it's not getting the type of publicity it needs to get. In today's news, it's reported (No, it's not front page headline) that Sergeant William Eiseman,  accepted a deal that calls for him to serve weekends in jail for three months. His crime? First-degree perjury and official misconduct. He was also training subordinates how to falsify records and commit perjury, yet, he was only sentenced to serve an approximate 24 days in jail for a crime that carries a maximum sentence of seven years? Why is it that this isn't newsworthy? You have a police SERGEANT pleading guilty to falsifying records and his excuse was he had the right intent, although what he did was illegal. Yet, the media gets all up in arms about Anthony Wiener showing photos of his genitals via Twitter yet this news barely gets mentioned!
What amazes me is that this police officer, SWORN to uphold the law, actually broke them to try to get convictions, yet, he is sentenced to 24 DAYS in jail. What is wrong with this picture? How are we to know that this isn't widespread? Where are the politicians on this? How come this isn't front page headlines? What does Mayor Bloomberg have to say about this? Read more…